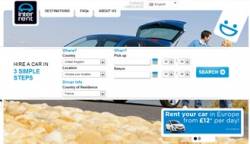 InterRent, the low cost car rental brand launched by Europcar earlier this year is helping UK holidaymakers stretch their budgets further this summer. With locations at key UK airports including Gatwick, Birmingham and Glasgow as well as at airports and railways stations in France, Portugal, Spain and Germany, InterRent makes car hire eminently affordable for holidaymakers. Starting from just £10 a day in the UK, providing a genuinely low cost service with the reliability of a market leader behind it, InterRent is ideal for holidaymakers who need to keep a close eye on their travel budget.
At the heart of the InterRent offering is a simple, user-friendly website (www.interrent.com), which provides an easy booking process in just three steps:
– Date and place of the rental
– Vehicle category and any options needed
– Payment
Each rental includes:
– 24 hour roadside assistance
– Third-party liability insurance and additional coverage for theft and damages.
Plus customers can book additional extras such as baby seats and GPS as well as adding extra drivers.
"The key to InterRent is to give travellers tight control on their costs", explained Ken McCall, Managing Director. "It offers a simple way to book with clear options for extras and, with a limit on the mileage that can be driven per day it enables us to offer a highly cost-effective solution for families on a budget this summer. Available at many of Europe's key airport and railway locations, InterRent offers a great choice of vehicles so that families can have all the flexibility and convenience of car hire at a budget price."