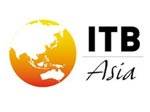 TB Asia 2013, the Trade Show for the Asian Travel Market, organised by Messe Berlin (Singapore), has announced an exciting line-up of conferences for this year's event which includes a wide range of 'how-to' sessions on adapting and thriving in this ever-changing environment. This year's ITB Asia will be held from 23-25 October at the newly refurbished Suntec Singapore Exhibition & Convention Centre.
The 2013 programme will have over 3,850 minutes of high powered content over 20 sessions during which high profile speakers and industry experts will present and lead discussions on a range of topics covering all aspects of the travel industry.
"As a global melting pot for the travel industry, we recognise the importance of taking the lead in delivering the latest industry insights to keep our partners at the forefront of travel. Delegates attending this year's conference will be exposed to a variety of tailored sessions that will address the latest developments, challenges and trends in travel. Our aim is to consistently deliver practical know-how and tangible learning points that our delegates can apply to their businesses to elevate success," said Nino Gruettke, Executive Director of ITB Asia.
The sixth instalment of the annual trade show also welcomes several new conference partners including Pacific Asia Travel Association (PATA), Medical Tourism Association, Travel Link Daily, Mix!, American Express and micenetASIA.
"Future-proofing" Your Business
The conference programme will kick-off on the first day of the show with a keynote speech by PhoCusWright Founder Philip Wolf on the importance of innovation and how travel companies can "future-proof" their strategies and continuously adapt to flourish. This will be followed by a session on Crisis Management where an expert panel will offer advice on setting the right procedures and resources in place to respond effectively in the event of crisis.
Sharing Industry Insights
PATA joins this year's programme with two high-level sessions on human capital development and facilitating visitor economy. PATA CEO Martin Craigs will open and moderate the first high-level gathering that will address key questions including the opportunities and obstacles involved in human capital development particularly within the tourism industry. PATA will also hold a session on the growth opportunities in Asia where representatives from Maldives, China and Myanmar will share insights on how to embrace visitors from the different regions.
The Medical Tourism Association's inaugural session will focus on the growing USD100 billion industry, helping delegates understand the medical tourism industry from a global perspective as well as strategies being used to generate business opportunities and increase economic growth.
Organised by leading Chinese trade media Travel Link Daily, a session addressing new trends in the Chinese travel market will be led by Renee Hartman, Co founder of China Luxury Advisors. In the second session, learn more about the challenges on the development of the Chinese outbound travel market from destination marketing industry representative Dr Grace Pan, International Director of Tourism and Events Queensland.
A key event for ITB Asia delegates and travel agents, National Association of Travel Agents (NATAS) returns with the NATAS Travel Conference 2013 featuring a panel discussion on current industry opportunities led by Ho Kwon Ping, Executive Chairman of Banyan Tree Holdings who will deliver the opening address.
The powerful line-up of events continues with Global Business Travel Association's (GBTA) one day business travel forum where participants will hear about the latest economic forecasts on business travel spend in the region, and learn new insights that will help travel professionals successfully plan for the future.
Planning for Success
ITB Asia has also expanded the conference component with a variety of new sessions to help companies and event planners grow their businesses.
Mix!, Asia's creative meetings magazine, is bringing four of the region's leading event professionals to ITB Asia to share the secrets of their success.
Industry heavyweights American Express and micenetASIA will also join hands and combine their respective expertise to provide delegates with invaluable tips on how to leverage knowledge on the travel industry to kick start a meeting programme.
Executives from American Express will also be discussing research findings from the 2013 Meetings Risk Mitigation Report and provide guidance on potential risk exposure areas and best practices on managing meetings the right way.
As a global platform to share industry insights and best practices, ITB Asia operates alongside the Web in Travel (WIT) Conference as an essential networking platform for all players in the travel industry. Last year, ITB Asia delegates enjoyed over 3700 minutes of quality conference content. ITB Asia is also a partner event of TravelRave 2013, a mega travel and tourism festival week organised by the Singapore Tourism Board.