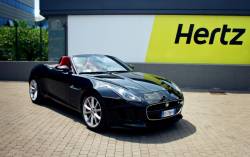 Travellers in Europe looking for that dream-drive getaway experience can now rent from Hertz the award winning Jaguar F-Type two-seater convertible in Belgium, France, Germany, Italy, and The Netherlands.
Available exclusively to rent through Hertz for the next six months, the Jaguar F-TYPE sports car ushers in the launch of Hertz Europe's new Dream Collection – a premium selection of iconic and breathtaking cars backed by the Make and Model guarantee that ensures all customers, including those based in the Middle East, drive away the exact car they booked.
The all-new Jaguar F-TYPE is the first full-blooded Jaguar sports car to be launched for more than 50 years.
The front-engined, rear wheel drive convertible has been meticulously conceived for high performance and responsive handling.
Michel Taride, group president, Hertz International, commented: "We are very proud to welcome the Jaguar F-TYPE in Europe as the launch car of our new Dream Collection for Europe, a line of high end vehicles providing a premium car rental experience.
"This addition enhances our partnership with Jaguar Land Rover, a leading car manufacturer that has yet again reinvented the sport cars segment with its F-TYPE.
"Now our customers can live the dream of high performance motoring and pure driving enjoyment."
Taking inspiration from cockpits of fighter airplanes, the F-Type controls are ergonomically grouped by function, while further aeronautical inspiration can be found in the joystick-shaped SportShift selector controlling the eight-speed transmission.