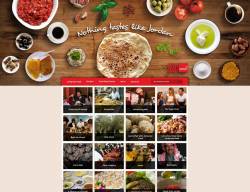 The Jordan Tourism Board has announced the launch of its new food website, reflecting JTB's insistence on expanding their tourism product to adhere to more niches and markets within the travel and tourism industry.
"We are very excited about this addition to the Jordan Tourism Board website," said Abed Al Razzaq Arabiyat, managing director, Jordan Tourism Board.
"We have been working to increase our connection with both our current fan base and our potential consumers by creating platforms that showcase more of what Jordan has to offer, in this case, Jordan's gastronomy.
"We hope visitors will engage with this niche further, as it will create more personal memories using their sense of taste.
"By focusing these specialised interests, we hope to demonstrate how relevant Jordan is to these niches, and thus further foster tourism to Jordan."
The food website is structured in a way that is easy to navigate.
When first entering the website, you are greeted with a beautiful arrangement of a Jordanian Mezze with a piece of bread as opposed to a plate.
A big tagline of 'Nothing Tastes Like Jordan' arches over the bread, signifying the endless recipes, videos and food options that Jordan and this website have to offer.
The Jordan Tourism Board plans on creating more platforms by translating the website to several languages, and developing a brochure that will display the different gastronomical experiences within this niche.
Ultimately, this website will promote Jordan as a food destination that caters to travelers interested in gastronomy. Furthermore, it will highlight the food in Jordan as an essential experience that is not to be missed.