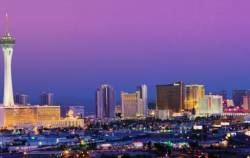 The Las Vegas Convention & Visitors Authority has completed $20 million in recent improvements to the Las Vegas Convention Center.
The LVCVA implemented the changes, which are designed to enhance the customer experience, to the 3.2 million-square-foot facility over the past two years while working around shows and events in the building.
"The Las Vegas Convention Center is home to many of the top trade shows in the country," said Terry Jicinsky, senior vice president of operations for the LVCVA.
"It is important to keep the facility fresh and offer its more than a million yearly guests the convenience that will make conducting business in Las Vegas a success."
The first noticeable change is the façade of the Las Vegas Convention Center.
Two different shades of gray paint now cover the once mauve exterior to create a more modern look.
In addition, the Green Parking Lot has been expanded adding more than eight acres to the lot near Desert Inn Road and Swenson.
Designs are underway on two more parking lots to allow for more convenience and access.
Inside, more than one million square feet of new red carpet has been installed. The lighting has also been upgraded in the Central and North Halls.
The new fixtures deliver up to 20 per cent more light with 42 per cent less energy.
The interior has also been painted.
In a worldwide first, Starbucks has added a double sided counter inside its recently expanded store. Being able to serve the customers from both side of the counter has resulted in faster service.
American Express has opened its OPEN Business Lounge inside the main entrance of the Las Vegas Convention Center.
The 3,400 square-foot lounge serves American Express OPEN card members and new applicants and offers refreshments, free WiFi, computer and printer access, and seating for meetings or relaxation.
It is the first OPEN Business Lounge on the West Coast.
All of the recent improvements will be integrated into future plans for Las Vegas Global Business District, an overarching vision for the Las Vegas Convention Center and the surrounding area.
The $2.5 billion Global Business District will create an international business destination by incorporating major renovations of the Las Vegas Convention Center, leveraging the World Trade Center designation and developing transportation connectivity through a centralised hub.
The Las Vegas Convention Centre, located adjacent to the Las Vegas Strip, is one of the largest convention centres in the country.
It hosts an average of sixty meetings, events, conventions and trade shows a year, with more than 1.2 million visitors.
Nearly 14,000 local jobs are supported by events held at the Las Vegas Convention Center, which generate more than $1.6 billion in local economic impact.