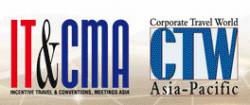 With just under a month until registrations close on 23 August, buyer applications to IT&CMA and CTW Asia-Pacific 2013 remain in full swing. Till date, over 700 MICE, Corporate Travel, Luxury Travel, Association and Corporate buyers have registered to be at this event in Bangkok – the World's top destination hotspot according to MasterCard's Global Destination Cities Index 2013.
The city surpassed even London, Paris and New York with total international visitor arrivals reaching close to 16 million, and is the only city among the top 5 to demonstrate the highest growth at about 10% for the year.
Largest Show To Date With 35% New Exhibiting Organisations For 2013
Come 1 to 3 October 2013, a total of some 600 buyers are expected to source at the event that boasts the largest showcase of Asia-Pacific MICE and Corporate Travel suppliers with an added luxury travel dimension.
The World's Only Doublebill Event In MICE and Corporate Travel will be celebrating its 10th year of colocating IT&CMA and CTW Asia-Pacific with the largest show to date, where delegate numbers are expected to cross the 2,800 mark. This year's event will also be featuring 35% new exhibiting organisations on board.
Said returning buyer Ben Gosman, Managing Director of Free Style from the Netherlands – who has participated at more than six IT&CMA and CTW Asia-Pacific events, "I look forward to discussing and exploring new experiences and business opportunities each time I attend. The promise of new exhibitors like with this year's show, and the ease of touching base with existing partners justifies why IT&CMA and CTW Asia-Pacific is a must-attend event for me."
Debuting CVBs include India Tourism, Fukuoka CVB, Sapporo CVB and Tourism New Zealand, while firsttime corporates include Federal Hotels International, Fujita Kanko, Globewerks Confex, Melia Hotels
International, Panorama Convex, Safaris Adventures Travel and Cargo, Sentosa Leisure Management, Solar
Empire and Winsor Suites Hotel Bangkok, amongst others.
Proven Sourcing Platform
Buyers who had attended the past IT&CMA and CTW Asia-Pacific events have consistently given the show top scores for its quality exhibition showcase as well as the high quality of business appointments.
But even to new buyers such as Joost de Meyer, Chairman & CEO of First Incentive Travel from USA, the reputation of IT&CMA and CTW Asia-Pacific drew his attention to the show. He remarked, "IT&CMA and CTW Asia-Pacific is the best show in this part of the world, and I must be here."
This sentiment is mirrored by Bernard Daly, Owner of B.D. Incentives from Ireland. "This will be my first participation at IT&CMA and CTW Asia-Pacific and I am certainly looking forward to it as I have heard from my colleagues that it is the biggest and best in Asia!"
A survey conducted in April this year (6 months after the 2012 event), proved the event's efficacy as a sourcing platform where close to 70% of 2012 buyers confirmed purchases with exhibitors thus far. Over USD45 million of sales were confirmed as a result of the 2012 event at the point of the survey, with the aggregate procurement value estimated at USD 120 million