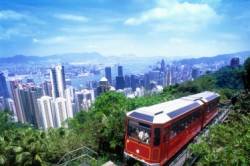 Figures from Hong Kong reveal 12 million overnight visitor arrivals were recorded between January and June 2013, an 8.7 per cent year-on-year increase.
In the first half of the year, overnight arrivals from Mainland China reached 7.84 million, 16.2 per cent more than in the same period in 2012.
According to a Hong Kong Tourism Board survey, the number of overnight mainland visitors who came to Hong Kong for vacation grew 19.4 per cent.
In the same period, short-haul arrivals to Hong Kong dropped 4.2 per cent year-on-year, since Japan drew away many regional travellers with its weak Yen.
By market, overnight arrivals from Japan fell 29.1 per cent.
Taiwan, however, registered a 4.1 per cent increase in overnight arrivals, which could be attributed to the free, online, pre-arrival, visa-registration service offered to Taiwan residents by the Hong Kong SAR Government.
Also, direct cross-strait flights diverted business travellers, leaving more available airline seats for vacation travellers from Taiwan.
In addition, overnight arrivals from Thailand rose 15 per cent.