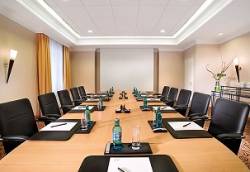 Marriott Hotels, the signature brand of Marriott International, is "re-imagining" traditional meeting spaces to meet a growing demand for more inspiring and creative work environments. Marriott Hotels is re-thinking everything from boardrooms, breakouts and pre-function spaces, taking a holistic approach to meetings and seamlessly integrating service, technology and contemporary design. The Munich Marriott Hotel and Amsterdam Marriott Hotel will be the first hotels in Europe to offer the "people-inspired" meeting spaces, opening in September 2013.
Research conducted by Marriott and the publishers of WIRED shows that people are working differently than in previous generations. The trend has shifted from individual workspaces to an ecosystem of places that gives workers choice and control over where and how to work, in and out of the office.
"The way people work is changing but the way meetings are hosted at hotels has not kept pace," said Paul Cahill, Senior Vice president, Brand Management, Marriott Hotels. "Inspired by the way Gen X and Gen Y meet and work, we are introducing spaces that promote collaborative work environments for more productive and meaningful outcomes. The new innovative meeting spaces in Munich and Amsterdam harness the new generational dynamic and will revolutionise the way meetings are conducted in hotels."
The new meeting suites will be flexible work spaces that meet the objectives of the meeting and its participants rather than dictate by room lay-out or furniture. From networking events to business meetings and interactive classes, technology and design will blend seamlessly to help facilitate all manner of meeting and purpose.
The spaces will feature wireless connection technology and include items such as video conferencing, smart whiteboards or whiteboard walls, projection walls, docking stations and touch screen controls. All technology will be app or web enabled, providing a platform for future technological innovation. Rooms will be bright and energising with a focus on natural light, a residential colour palette and vibrant accents of colour.
Insight taken from the brand's innovations around lobby design has been applied to the new pre-function area design. Just as hotel lobbies have become fluid places to work, meet and socialise, the pre-function spaces will offer flexible seating arrangements to accommodate individuals and groups, work and gathering.
The new meeting spaces will be complete in Munich and Amsterdam by mid-September.