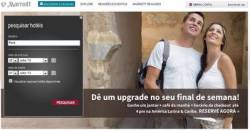 Reflecting Marriott International's increasing focus on global markets, the company announced today the improvement of its Brazilian booking website,www.marriott.com.br, in a partnership with Booking.com, to allow guests in that country to make their reservations in local currency online or on their mobile devices (m.marriott.com.br).
"As one of the world's leading hotel operators, we want to give our Brazilian customers the ease and freedom to book their stay at any of our 3,800 properties in 74 countries in their own language and currency," said Craig Smith, president of the Caribbean and Latin America at Marriott International. "We constantly strive to provide our customers with the best experience, from the online search process to the booking and hotel experience." "We believe that by leveraging the Booking.com platform, language and currency capabilities, we are able to deliver customers that great experience."
"As the company's portfolio of hotels expands and diversifies worldwide, we are prioritizing the globalization of our eCommerce channels," said Fabiana Farias, vice president of marketing and eCommerce for the Caribbean and Latin America at Marriott International. "The expansion of booking capabilities on our Brazilian website demonstrates Marriott's commitment to making the booking experience with us as simple as possible."
Marriott International reported revenues of more than US$12 billion in fiscal year 2012, of which US$8.5 billion was generated from sales on Marriott.com. The website also has the highest consumer satisfaction score of Marriott's sales channels. Some 75 percent of Marriott hotel guests consult individual hotel websites, regardless of where they make their reservation.
Brazilians book more on Marriott.com than customers from any other Latin American country.www.marriott.com.br enables travelers to book a room in Portuguese and in Brazilian reals, not only in Marriott International's five hotels in Brazil, but also its hotels around the world. The site also allows travelers to check their reservations, access images and details about their hotel, enroll in Marriott Rewards, check their point balance and even find out what's happening locally.