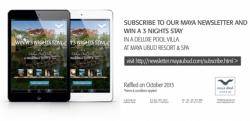 Green Globe Member, the Maya Ubud Resort&Spa in Bali, has been recognized for significant achievements in incorporating sustainable, spiritual, social, and environmental principles and practices into the business. The Maya Ubud Resort&Spa creates and maintains the sector benchmark for environmentally responsible style and personal luxury, paired with inspired service that exceeds guests' expectations – the ultimate atmosphere for relaxation, refreshment, and renewal.
In awareness of the growing importance of online social media in the hospitality industry, Maya Ubud Resort&Spa is holding an exclusive contest for its guests, including future guests, which will run from August 02, 2013 through September 30, 2013.
The contest will offer the winner a complimentary three night stay in a Deluxe Pool Villa at the Maya Ubud Resort&Spa. To enter the contest, please subscribe to Maya Ubud's weekly newsletter, using the following link http://newsletter.mayaubud.com/subscribe.html. The goal is to encourage guests to be the first to know about the latest news, events, secret promotions, as well as traveler's tales.
Maya Ubud's General Manager, Paul Blake, said: "More than any other form of online communications, social media, and the resort's newsletter forges a deeper relationship with our guests before, during and after their stay. We are able to respond to their queries, listen to their feedback, develop products to match their preferences, and keep them updated on new promotions, community projects and events. It is crucial to our branding, not only from a marketing standpoint, but also from an operational perspective, as any promotion through the social media networks and newsletter enhances our services and products – from accommodation, food and beverage, to our spa and leisure activities."