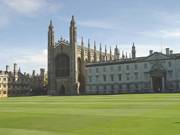 Some 4.5 million Brits will make the most of the forthcoming August Bank Holiday weekend by taking an overnight holiday trip in the UK, with 3.5 million people taking that trip in England, according to VisitEngland's Bank Holiday Trip Tracker.
This is likely to generate some £1 billion in tourism spend for the UK economy, around £800 million of which will be spent in England.
A further 7.5 million Brits are currently undecided about whether to take an overnight trip in the UK over the Bank Holiday weekend, with financial concerns being the main reasons for delaying a decision.
Almost a third of those who are undecided are waiting to see what the weather will be like or are just unsure where they would like to go.
A quarter are looking to see if there are any special deals or offers to take advantage of or just prefer to book last minute.
Louise Stewart, VisitEngland, director of strategy and development commented: "It's great news that 3.5 million people will be taking an overnight break in England over the August Bank Holiday.
"July's heat wave saw an increase in late bookings and a real boost for the tourism industry after a harsh winter and slow spring.
"Those waiting on the weather should remember that England is a fantastic all-weather destination, with a wealth of world-class coastline, countryside and attractions, including many free galleries and museums across the country.
"With warm weather set to continue this weekend, it will certainly provide a secondary boost for many operators at the end of the school holidays, with the expectation being to see another spike in last-minute bookings for the Bank Holiday."