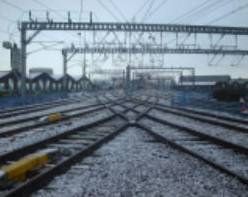 Electric trains will be able to run between Manchester Airport and Scotland from December 2013, Network Rail said today, as it announced completion of the first phase of the £400m North West electrification programme.
The installation of new infrastructure on part of the world's oldest public railway between Newton Le Willows and Castlefield Junction marks a major milestone in the programme which will see over 350 track kilometres upgraded across the north of England.
At a short ceremony today at Eccles station, one of many set to benefit from the investment, Secretary of State for Transport, Rt Hon Patrick McLoughlin MP, said: "The Government is committing record amounts of investment into transforming the rail network and it is great to see this work happening right now.
"Electrification of these routes will significantly improve connections between our major towns and cities, boosting the economy and providing passengers with quicker, cleaner and more frequent services."
Jane Simpson, Network Rail's director of route asset management, explained the benefits of electrification: "Electrification helps us to boost capacity, reduce carbon emissions and cut the cost of running the railway. Electric trains are also quieter, more reliable and have more seats, which is good news for passengers.
"This work is part of a wider programme of improvements that will transform rail travel in the north of England. By enabling faster, more frequent trains to connect key towns and cities we can provide the railway that the region's passengers want and its economy needs."
Lee Wasnidge, area director for Northern Rail, said: "Investment in rail infrastructure in the North West is helping us develop better and faster services for our customers. This electrification project is just one part of the massive improvement scheme being rolled out across the region. Eccles station itself is benefitting from funding secured from the National Station Improvement Programme with a brand new ticket office due to open here next month."
Chris Nutton, First TransPennine Express programme director, said: "We are absolutely delighted that the investment in an electric railway for the north west of England is on plan and progressing well. It is a huge and unprecedented level of investment that will pave the way for yet more improved rail services for customers across the region.
"FTPE has invested £60m in a fleet of new trains that will start to come into service from December this year and will mean a 30% increase in capacity across our network. Customers will benefit from more journey options, faster trains and better connectivity and accessibility.
"The North West electrification and our procurement of an additional 40 carriages is a great example of the industry working together and shows our commitment to providing the best possible rail travel for customers now and into the future."
The next major improvements will come in December 2014, when electric trains will be able to run from Liverpool to Manchester via Newton le Willows and Wigan and from December 2016, when they will run between Preston and Blackpool, Manchester and Preston and Manchester and Stalybridge. This will be followed by the completion of trans-Pennine electrification from Stalybridge through Huddersfield on to Leeds, York and Selby by December 2018