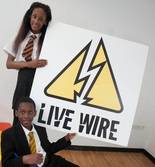 Network Rail this week launched a new safety education campaign – 'Live Wire' – to increase awareness among schoolchildren about railway electricity and how to stay safe around the railway.
The initiative coincides with the electrification of a number of key routes across the north west of England between now and 2016. The first electrified line will be switched on in August 2013.
Created by young people for young people in a series of focus groups in schools and youth clubs, the campaign includes a teachers' kit which provides information and activities to explain the upgrade to the railway and also highlight the dangers of the electrified railway line.
A key teaching resource available is an impactive video drama, told wholly through social media posts, videos and messages, about a group of friends who decide to meet by the tracks one weekend.
The kit, which has specially designed materials for both primary and secondary schools, includes:
* Multi-media assembly presentations for primary and secondary schools, including a quiz, info-graphic and video
* Lesson plans across a range of subjects (including maths, science, history, English and PSHE) for Key Stages 1-4, developed to meet curriculum requirements set down by Ofsted, Education Scotland and Estyn in Wales
* An animated info-graphic designed to illustrate that the overhead power line carries 25,000 volts – 100 times greater than the average home's power supply
* A mock news report featuring a number of primary school children asking the experts about railway electrification
Gemma Duffy, community safety manager at Network Rail commented:
"The electrification of key railway routes across the north west will mean a more efficient, quieter and greener service for thousands of passengers and will help support economic growth across many of our cities and towns.
"We're committed to helping local schools, youth clubs and community groups learn about electricity on the railway and why it's vital to stay safe."
The full electrification timetable is as follows:
* Manchester to Newton-le-Willows: completed by December 2013
* Manchester to Liverpool & Huyton to Wigan: completed by December 2014
* Preston to Blackpool: completed by May 2016
* Manchester to Preston: completed by December 2016
* Manchester to Stalybridge: completed by December 2016
Amanda Aghedo-Trombi (12), who helped develop the Live Wire logo said: "It's been really interesting to help create the 'Live Wire' logo and discuss ideas on how to bring the campaign to life. I didn't realise that the electricity is always on and can always kill. It's important that everyone knows the dangers and to stay clear of the tracks."
'Live Wire' has been developed by Network Rail as part of its Rail Life youth initiative.
Nine out of 10 people die from the electric shock received from getting too close to the overhead power lines on the railway.