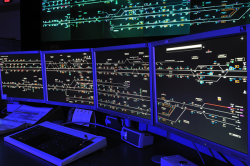 Network Rail has published its technical strategy, outlining the research and development priorities and opportunities for the next 30 years.
The creation of the strategy, which follows the release of the overall Rail Technical Strategy in December last year, has been driven by a need to focus R&D investment on meeting its key outcomes: safety, performance, customer experience, capacity, cost-efficiency and sustainability.
One of keys to unlocking the potential for improvement in these areas lies with closer collaboration.
Network Rail chairman Richard Parry-Jones said: "Our ability to be more ambitious relies on strengthening collaboration at all levels – across disciplines within Network Rail, between Network Rail and the rail industry, with European and world railways and beyond the rail industry to other technology sectors.
"There must also be a strong connection between long-term planning and long-term technical capability."
The railway industry has recognised that it has under-invested in R&D by any benchmarked standard. The Network Rail Technical Strategy, as part of a wider cross-industry and European drive to innovate, seeks to identify priorities for funding which will bring Network Rail closer to global norms for R&D investment.
The business will continue to work with the Office of Rail Regulation to secure funding for key projects, which will have their own business cases.
Areas for innovation identified within the Network Rail Technical Strategy include :
Safety: We will embed a safety by design policy in everything we do, ranging from intelligent level crossings and automated monitoring of infrastructure for safety critical failures.
Performance: We will work with our operating partners to ensure increasingly resilient timetables are put in place and evolve our approach to asset management with automated monitoring, and less emergency maintenance.
Customer information: Better information will rely on common and optimised information flow across industry to get reliable information to customers in real time.
Capacity: Our network will utilise new control systems, enabling trains to run closer together.
Efficiency: We will improve the cost-effectiveness of our asset management by developing our understanding of whole-life, whole system issues – including developing capabilities for non-disruptive maintenance.
Sustainability: We will work with industry partners to reduce arbon emmisions, and invest in energy efficient assets.