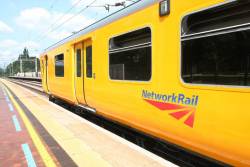 The newest addition to Network Rail's UK train fleet has left the depot for the first time on a series of test runs.
Former passenger unit 313121 has been adapted to become a laboratory train for the European Rail Traffic Management System (ERTMS) programme and will be used on the ERTMS National Integration Facility when it opens later this summer.
Alstom refurbished the unit at its Wembley depot and fitted its own train-borne ERTMS kit, along with CCTV, workstations for engineers, extra batteries to power the equipment, a kitchen, and – in a notable first for a class 313 – a toilet.
Due to start work this summer, the ENIF will see trackside ERTMS kit from four suppliers put through its paces on a five-mile section of the Hertford loop, controlled from a facility at Hitchin.
Gary Porter, Network Rail programme director, traffic management and ETCS, said: "ERTMS will play a vital role in changing the way we operate our railway.
"Crucially, our facility at Hertford and this Class 313 will give us a greater depth of knowledge of the system as we prepare to roll it out on the network."
The test train will also be utilised to support other Network Rail projects, including Thameslink.
An ERTMS driver machine interface and new control panel has been fitted to both cabs, with a duplicate screen in the secondman's position.
Passengers in the train will also be able to see the images, plus high-definition views front and back on 42-inch plasma screens.
To allow for the operation of ENIF, bi-directional signalling has been installed on the northern section of the Hertford loop, to allow the down line between Molewood Tunnel and Langley South junction to be used as a test facility.
During peak hours the section will be part of the normal railway, but when testing is required the block will be 'switched out' – switching control from King's Cross power signal box to the facility at Hitchin.