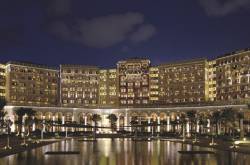 The New Nuclear International Conference – a major gathering of global experts focused on the development of peaceful nuclear energy – is to be held in Abu Dhabi in November with up to 700 delegates from around the world due to attend.
The conference, which will run at the Ritz Carlton Abu Dhabi, Grand Canal from November 11th-14th, is being presented by the Goodnight Consulting Corporation and organised by Carlisle Events.
In partnership with the Emirates Nuclear Energy, the conference will bring international experts to provide delegates with key know-how in the initiation, design and launch of peaceful nuclear energy programmes.
The conference has the backing of the World Organisation of Nuclear Operators, the World Nuclear Association, Arab Atomic Energy Association and the US-UAE Business Council.
The conference comes to Abu Dhabi with the support of Abu Dhabi Convention Bureau – the single source business events catalyst of Abu Dhabi Tourism & Culture Authority.
"The contact emerged from our inaugural MICE roadshow staged in the USA earlier this year and we have been able to support it via our Advantage Abu Dhabi meetings incentive program," explained HE Jassem Al Darmaki, deputy director general, TCA Abu Dhabi.
"Major conferences such as this are central to our campaign to be listed, by the International Conventions and Congresses Association, among the Top 50 associations' meetings destinations within the next five years."