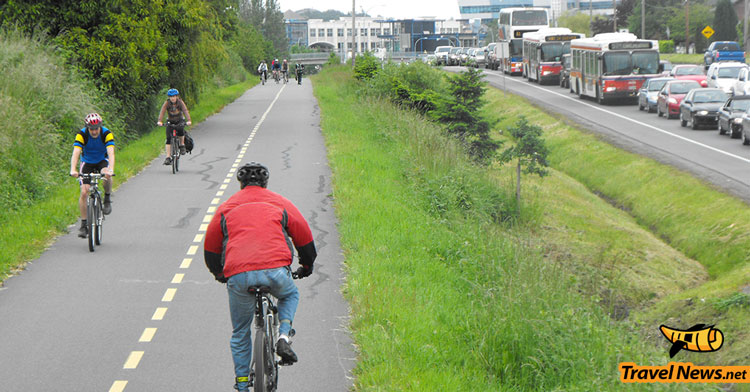 Toronto is all aflutter about the announcement of a proposed rail park in downtown Toronto.
The so-called Rail Deck Park could span 21 acres between Blue Jays Way and Bathurst Street in the city's core, and offer a public park in an area that's desperate for green space and disrupted by below-grade rail corridors.
The idea seems so fresh, so brand new. It's not.
Quietly, Canadian communities and governments have been renovating disused rail lands for years, and often transforming communities in the process. Both locals and visitors can pretty much bike their way from coast to coast, thanks to their efforts.
The soon-to-be fully launched The Great Trail runs right across Canada with more than 20,000 km of trails groomed for walking and biking — it'll be fully launched and connected by next year to celebrate Canada's 150th birthday. Often, these trails offer access to land that's difficult to otherwise navigate, like the connected 600 km of the Kettle Valley Railway B.C., which runs through this mountainous region at a grade flat enough for families to bike.
There are also numerous gems that dot the country and make their own connections. Check out the G2G Trail, 127 km between Goderich, Ontario, and Guelph.
Most of these stretches were built with community and government money, but often with community leaders at the helm. The G2G Trail took 25 years to put together.
Leaders on such undertakings must have envisioned what we see today in many small Canadian communities. In towns where there's minimal public space and very little incentive to get outside and be active, you now see people with walking sticks and on bikes, making their way to the local trail.
Rail trails kickstarted the rise of rail line cycling tour companies. Since few trails wrap around, it's useful to have transportation to get you back to your own vehicle, as well as help with heavy gear. With a nation dotted with trails, tour companies curate where to go and how to do it.
This new Toronto park could cost more than $1 billion. It's years away. When it's finally done, it will be but a final showpiece in what hardworking Canadians have already achieved in leisure and tourism.
Photo: John Luton