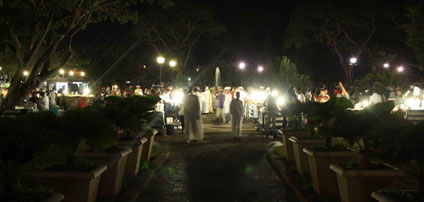 With Oman Air's support and assistance, the Sultanate of Oman is to be showcased to international movie-goers, as Once Upon A Time in Mumbai Again gains its theatrical release.
The movie, which was directed by Milan Luthria and stars Sonakshi Sinha, Imran Khan and Bollywood's leading action hero Akshay Kumar, was filmed in and around the Omani capital of Muscat and its launch follows the success of its predecessor, Once Upon a Time in Mumbai.
Once Upon A Time in Mumbai Again enjoyed a major promotional push at a press conference hosted by the Oman Ministry of Tourism on Friday at the Taj Lands End, Bandra, Mumbai.
As the national carrier of the Sultanate of Oman, Oman Air was proud to help publicise the country's outstanding natural beauty, picturesque towns and cities and rich culture by providing transport and logistical services for the movie's 130-strong cast and crew.
Once in Oman, all associated with Once Upon a Time in Mumbai Again had the opportunity to discover the Sultanate's pristine coastline, rugged mountains, awe-inspiring deserts and abundant wildlife.
Beyond the area in and around Muscat, where much of the filming took place, Oman is also known for natural phenomena such as the Al Hoota caves, the Khareef (monsoon) – which is unique to the southern tip of Arabia and brings cooling relief from the summer heat – and Salalah's anti-gravity point, where vehicles appear able to roll uphill.
Sharing his views of Muscat and Oman Air Akshay Kumar commented: "The city has been quite friendly to me and I have always enjoyed the experience of shooting here.
"While I haven't travelled around Oman, I found the city of Muscat to be quaint, charming and picturesque. It has a beautiful old-world charm about it.
"And Oman Air made our trip thoroughly enjoyable with their superb services on and off the flight!"