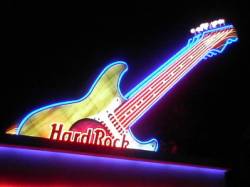 Palladium Hotel Group has announced the creation of a new hotel with the help of the popular brand, Hard Rock International.
The collaboration of the two groups will lead to Europe's first Hard Rock Hotel complex, scheduled to open in May 2014, which converts two properties from the Spanish hotel group's Fiesta Hotels & Resorts brand, Fiesta Club Don Toni and Fiesta Hotel Don Toni.
The theme of the new hotel will evoke the undisputed legendary philosophy inspired by the music style that characterises all Hard Rock establishments.
The new Hard Rock Hotel Ibiza will comprise of two buildings joined by a completely remodelled lobby and a multifunctional space that will include a variety of dining, shopping and entertainment options.
Staying true to its musical heritage, the hotel will also feature live music performances by internationally renowned groups, complementing the Ibiza scene, a place of pilgrimage for international artists.
"We look forward to working with Hard Rock International on the upcoming development in Ibiza," said Abel Matutes Prats, chief executive, Palladium Hotel Group.
"Our team feels privileged to be a part of this project and we're certain Hard Rock Hotel Ibiza will be a success.
"We operate more than 3,450 rooms in 14 hotels in Ibiza, and we look forward to continuing our relationship with Hard Rock as we've seen great success in our existing Cafe alliance."
The Hard Rock Hotel Ibiza will have over 480 rooms combining the island's Mediterranean flavour with the philosophy of the popular Hard Rock brand, as well as 235 suites and spacious facilities, such as the Rock Spa, Body Rock workout facility, 8,600 square feet of meeting space, iconic music memorabilia and world famous Rock Shop featuring Hard Rock's illustrious merchandise.
With the objective of adding new nightlife propositions, the hotel will offer exceptional dining and entertainment options, such as a lobby bar, children's club, teen lounge and beach club.
Guests can also enjoy Ibiza's natural beauty with special swim-up suites, plus two swimming pools equipped with bars, private bungalows and pool bar service.