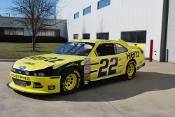 Hertz and Penske Racing enter their first NASCAR Nationwide Series race on a road course on August 10th as defending NASCAR Sprint Cup Champion Brad Keselowski takes the No. 22 Hertz Ford Mustang to Watkins Glen International (WGI) track in New York. To help get racing fans to the track, Hertz is offering discounted rates of up to 22% off their Hertz rental when they mention corporate discount number (CDP#): 2222222 at time of reservation.*
"The uniqueness of this course will make for an enjoyable weekend and it will be interesting to have Brad drive the No. 22 Hertz Ford Mustang for the first time on a road course," commented Mark P. Frissora, Hertz Chairman and Chief Executive Officer. "The diversion from the oval-shaped track will add an extra element of excitement to the race. We're confident the No. 22 team will excel at this course's differed tasks, mirroring the success they've shown throughout the season."
"Road course racing has become some of the most-exciting racing of the year," commented Penske Racing driver Brad Keselowski. "I'm looking forward to the opportunity to represent Hertz in the No. 22 Hertz Ford Mustang at Watkins Glen. Hertz and Penske Racing have proven to be a great combination so far this season. I'm anxious to make my mark by picking up my first win at Watkins Glen."
Most recently, driver Joey Logano had a first-place finish in the No. 22 Hertz Ford Mustang in the Nationwide Series event at Chicagoland Speedway. The track for this weekend's race, The Cheez-It 335 at the Glen, is one of a few road courses where drivers get to turn both left and right with many twists and turns in both directions and this will be the first time Hertz is represented on a road course. They do so with a No. 22 Penske Racing team that has one win and three top-five finishes in the last three races at WGI.
In January, Hertz and Penske Racing entered a multi-year agreement with Hertz serving as a 2013 primary sponsor for select races on the No. 22 Penske Racing car competing in both the NASCAR Sprint Cup Series and Nationwide Series. Hertz will have branding presence on the team's uniforms and equipment as well as on the Nationwide Series car. The No. 22 Hertz Ford Mustang raced this season at Dover International Speedway in the Monster Mile and at Chicagoland Speedway with Penske Racing driver Joey Logano coming in first place as well as at the New Hampshire Motor Speedway. In addition, Hertz is co-primary sponsor on the No. 22 Ford Fusion in the Sprint Cup Series at the fall race hosted at Charlotte Motor Speedway.
Hertz is committed to offering its customers the most technologically innovative products and services available to keep customers "Traveling at the Speed of Hertz." This includes Hertz 'Carfirmations'; 'Gold Choice', which gives Gold members the power to keep the car they reserved or simply choose a different car from the Gold Choice area; and e-Return, with the fastest car rental drop-off that includes an email receipt within hours. These are all complimentary services for Hertz Gold Plus Rewards members, which is currently free to join. In addition, Hertz continues to expand the presence of its ExpressRent Interactive Kiosks that let customers rent a car, with or without a reservation, through a live, face-to-face video kiosk.