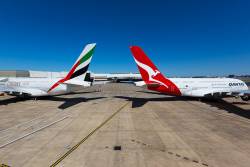 Qantas and Emirates, together with MasterChef Australia will showcase Dubai and its culinary experiences as the 'world food week' episodes of this season's MasterChef series air from Sunday 11 August.
Qantas flew the MasterChef Australia production to Dubai to participate in cooking challenges that included a traditional Arabian feast served to special guests at the majestic Al Waha Desert Camp and a three course meal at the iconic Atlantis The Palm.
Qantas Group Executive Brand, Marketing and Corporate Affairs, Olivia Wirth said Qantas was proud to play a part in growing Dubai as a destination for Australian food lovers and holidaymakers.
"The Middle East is a key international market for Qantas. Since launching services there in March this year, we have flown over half a million passengers between Australia and Dubai," said Ms Wirth.
"We are proud to connect Australians to Dubai and highlight new experiences through our sponsorship of the popular MasterChef program.
"We have worked with our partners Emirates and Dubai's Department of Tourism and Commerce Marketing (DTCM) to support coverage of Dubai's wonderful food experiences and we look forward to doing more in future to promote Dubai as a hotspot for Australian travellers.
"Already, many of our customers are choosing to stopover in Dubai on their way to Europe and as they become more familiar with it, we expect to see Dubai become even more of a destination in its own right for Australian holiday makers."
Boutros Boutros, Emirates' Divisional Senior Vice President, Corporate Communications, Marketing and Brand said award-winning cuisine is an integral part of the Emirates travel experience both on board our aircraft and in the Emirates lounges across our network.
"Through our partnership with Qantas and MasterChef Australia, we have been able to showcase the hospitality and service that Dubai, our hub, is globally renowned for," said Mr Boutros.
"During the MasterClass in Paris episode, viewers will get an insight to the Emirates Airbus A380 aircraft, including its First Class suites, onboard shower spas, onboard lounge and also the range of cuisine, not only in the aircraft but also in the First Class Lounge in Concourse A at Dubai Airport, the world's only dedicated and purpose-built A380 concourse."
The Director General of Dubai's Department of Tourism & Commerce Marketing (DTCM) HE Helal Saeed Almarri said "MasterChef provides us with an exciting platform to showcase Dubai's diverse range of culinary offerings to one of our main source markets: from celebrity chef dining to local street food favourites; the tastes of the traditional souk markets to extraordinary gourmet experiences."
"This important collaboration between Qantas, Emirates and DTCM along with Atlantis The Palm, Arabian Adventures and the Dubai Film and Television Commission was a perfect example of what we can achieve when we harness the collective offerings and abilities of the tourism industry."
"This was further enhanced by the guests from both the public and private sectors who volunteered to appear in the show as VIP diners, all of whom acted as great ambassadors for Dubai. In the first half of 2013, more than 110,000 Australians visited Dubai and I've no doubt that once the Dubai-based episodes of MasterChef air, many more will be booking their flights and holidays to experience our Emirate for themselves."
MasterChef Australia judge Matt Preston said the Middle Eastern metropolis was a new and exciting destination for this year's international challenge.
"Dubai provided a spectacular backdrop for the tough challenges of this year's international trip. What a journey for our contestants; from the tradition of the souk and cooking a desert feast to running a fine dining restaurant complete with an audience of 65,000 sea creatures. A most memorable time," said Mr Preston.
Qantas is a major sponsor of MasterChef Australia. Travel to Dubai and Paris as part of World Food Week commencing this Sunday 11 August, was also supported by Emirates who carried contestants and crew to Paris for a unique Parisian master class. Arabian Adventures and Atlantis The Palm also provided support for the production in Dubai.