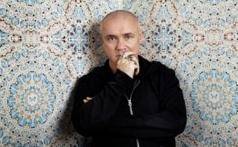 Qatar Tourism Authority has joined forces with the Qatar Museums Authority to announce Relics, the first solo exhibition in the Middle East dedicated to the iconic British artist Damien Hirst. 
On view from October 10th until January 2014, at the Alriwaq Doha exhibition space, the show will present the largest collection of Hirst's work ever assembled.
Relics spans over twenty-five years of Hirst's artistic career and includes both iconic and previously unseen works.
Recently stating "I've got an obsession with death, but I think it's like a celebration of life rather than something morbid", Hirst has remained dedicated to exploring the complex relationship between art, love, life and death.
His instantly recognisable works include the Spot Paintings, the series of animals preserved in formaldehyde, and the diamond skull: For the Love of God.
His work bears testimony to his enduring fascination with the daily intrusion of death into life, and the inevitable decay of our bodies despite an increasingly unquestioning faith in pharmaceuticals.
Often framing scenes within boxes, tanks or vitrines, he stages startling and thought-provoking situations in which life cycles play out, life wrestles with death, and cures become confused with illnesses.
Damien Hirst is widely regarded as one of the world's most successful contemporary artists and has created some of the most seminal works in recent art history.
Emerging from the Young British Artist movement that originated in London in the late 1980s, he was part of a group which became renowned for their audacious and often shocking works, receiving international acclaim and succeeding in revitalizing the British art scene.
Jean Paul Engelen, director of public art at the Qatar Museum Authority commented: "With his own artistic language Damien Hirst changed our perception of London and the UK. There are very few artists in history that have had such a profound impact on high and popular culture. QMA is extremely proud to make this exhibition with Damien."
The exhibition will be curated by high-profile writer, critic, and internationally renowned curator Francesco Bonami, currently Manilow senior curator at the Museum of Contemporary Art in Chicago, and who has previously occupied a number of prestigious posts, including artistic director of the Venice Biennale in 2003.