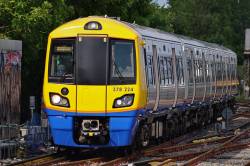 Investment in enhancing the rail network generated more than £154m of work for businesses in Scotland over the last financial year, according to new figures released today by Network Rail.
Around 40 percent, £63m, of the money spent on enhancing and expanding the country's rail network in 2012/13 went to Scottish SMEs (small and medium-sized enterprises), while £91m was spent with larger companies and corporations.
Investment in Scottish rail projects sustained over 4,300 jobs across the country, in addition to over 2,100 staff directly employed by Network Rail Scotland.
Across Britain, Network Rail's major projects division – which is responsible for delivering enhancement schemes such as the Borders Railway, the Edinburgh-Glasgow Improvement Programme, Crossrail and Thameslink – spent a total of £3.2bn in 2012/13.
Deputy First Minister, Nicola Sturgeon, said: "Investment in Scotland's railways is a key priority for the Scottish Government and we are committed to improving and extending the network, building new stations, and doing everything possible to keep fares down. As a result of our investment, passenger numbers are increasing to record levels and today figures from Network Rail show that targeted investment can also support highly skilled jobs and growth right across Scotland.
"Looking forward, we have set out an ambitious £5billion package of funding and investment for our railways until 2019. This will support Network Rail's delivery of a number of major rail projects like the Edinburgh-Glasgow Improvement Programme, the Borders Railway, Aberdeen-Inverness rail improvements and further enhancements to the Highland Mainline, as well as a rolling programme of network electrification to improve performance and journey times and reduce emissions.
"This investment will better connect our cities and communities and help create more growth and more jobs for Scotland."
David Simpson, Network Rail route managing director for Scotland, added: "The rail industry is increasingly recognised as a key contributor to our national, economic and social well-being. In Scotland, rail is enjoying a level of popularity and patronage unmatched at any other time in the post-war years.
"The network is also benefitting from significant and sustained levels of investment too, with the new Airdrie-Bathgate line completed in 2010, the Paisley Canal line electrified last year and work on the Borders and EGIP projects currently underway.
"However, railways don't just move people and freight, they also connect homes and workplaces, businesses with markets, create jobs, stimulate trade and support the growth of a balanced economy."
The rail industry's supply chain is both extended and varied, ranging from professional services to the construction industry. Rail investment is therefore an important driver of growth across many of the UK's industrial sectors.
In the last four years, Network Rail has generated £17.3bn of work for its supply chain, of which £6.2bn has been with small and medium-sized businesses – a 22% increase on the previous four years. Planned enhancements and renewals expenditure between 2014 and 2019 is approximately £25bn, with 99% of this work to be undertaken by UK-based companies.