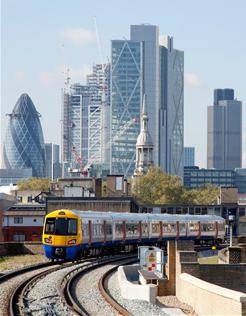 A £33m programme of work to improve railway structures across the Western route has started. This major investment forms part of the government's fiscal stimulus policy, which aims to create job opportunities and help boost local economies.
This new programme of work has already helped created 135 jobs, underscoring the economic benefits of rail investments. The investment is also set to benefit small and medium sized businesses as it filters down the construction and engineering industry supply chains.
Based on latest figures also issued today, rail investments have already generated more than £280m of work to businesses in the south west of England over the last one year. More than 17 per cent of the money went to small and medium-sized businesses in this region.
Network Rail's Western route – which connects London Paddington station with Oxford, Reading Swindon, Bristol, Devon and Cornwall – will benefit from a total of 113 schemes. Nearly 30% of this new investment will be spent on improving earthworks and drainage to reduce the impact of extreme weather.
Patrick Hallgate said: "The railway gives more than it takes. This new investment demonstrates the government's confidence in the railway and in our ability to deliver sustainable economic growth through a bigger, better railway. The rail industry's supply chain is both extended and varied, ranging from professional services to the construction industry and therefore investing in rail can help to drive growth across many of the UK's industrial sectors.
"Network Rail Western will have a pivotal role to play in driving growth as we plan to transform the Great Western main line into the most advanced intercity railway in Britain by the end of the decade. By continuing to invest in the industry, we are also investing in the future of Britain."
Chief Secretary to the Treasury, Danny Alexander, said: "Investing in infrastructure has a direct effect on the economy, creating jobs, and giving Britain the infrastructure we need to build a stronger economy and fairer society. That is why we have set out £100bn of investment in infrastructure over the next Parliament, including supporting the largest programme of investment in rail since the Victorian era. I'm very glad to see that Network Rail are doing their bit to drive sustainable and balanced economic growth across the UK."
The planned works are geographically spread to deliver economic stimulus to the south west of England and the Thames Valley and they are suitable for delivery by a broad supply base, ensuring that investment will reach beyond the rail industry to benefit the wider economy.
There are 39 schemes in the Thames Valley and 74 in the south west of England from the new programme of work, these schemes include :
* Repairing and repainting Bourne End Viaduct in the Thames Valley
* Stabilising the rock slope at St Anne's Tunnel in Bristol
* Restoring and repainting a listed Victorian structure at Torquay
* Repainting a 20metres footbridge at Liskeard
* Stabilising a cutting at Langport in Taunton
* Bridge scouring work at Adlestrop, Gloucester
All the works are planned to be completed by April 2014 and are additional to Network Rail's investments between 2009 and 2014 (Control Period 4) approved by the government in 2008.