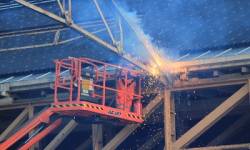 Passengers using Manchester's Victoria station are only one year away from enjoying a newly revitalised, lighter and brighter station as part of a £44m investment programme being delivered by Network Rail.
The project to rebuild the station includes replacing four sections of the old, leaky steel roof which will be recycled and replaced with a stunning new roof which will flood the station with natural light.
Dyan Crowther, Network Rail route managing director said: "Rebuilding Manchester Victoria is an integral part of our investment plans for the North which will help provide over £4bn worth of wider economic benefits to the region. The refurbished station will be safer, brighter and more spacious and will transform Victoria into a transport interchange able to cope with the expected increase in passenger numbers in the north."
Lee Wasnidge, Area Director for Northern Rail said: "As the old roof is dismantled and a new Manchester Victoria starts to appear, our customers will be able to see the station transform before them. This refurbishment project will not only help provide additional rail capacity to the city but will also preserve the heritage of the station while providing a bright and modern environment for our customers."
Councillor Andrew Fender, Chair of the Transport for Greater Manchester Committee, said: "The new roof for Victoria is one of the most striking changes being made and something that regular passengers will no doubt welcome with open arms. It's key to the transformation of the station to a welcoming, world class facility and I very much look forward to its completion."
Demolition teams are working throughout the summer to remove the old roof and will shortly be installing new steel beams up to 120 meters long which will support the new roof structure. The roof is due for completion in summer 2014 with the station refurbishment scheduled for completion early in 2015.