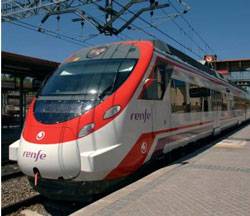 A train derailment in north-western Spain has claimed the lives of at least 77 passengers, with more than 100 more injured.
Some 218 passengers were onboard the Madrid to Ferrol train when it came off the tracks near the city of Santiago de Compostela.
It is reported the train had been travelling at double the speed limit as it came off the tracks on a curve.
Officials say it is the worst train accident in Spain for more than 40 years, with the last major accident claiming 77 lives in 1972 during a derailment in Andalusia in the south.
Train operator Renfe said it and the track operating company Adif are collaborating with a judge appointed to investigate the accident.
Government officials said they believed the crash was an accident, but that no statement would be made regarding the cause without a proper investigation.