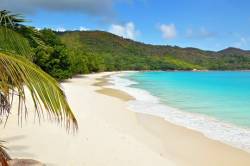 South African top tour operators are in Seychelles to further develop a tourism marketing strategy to better position Seychelles on the South African market.
In a joint workshop conducted by the Seychelles Tourism Board, Air Seychelles, and the Berjaya Beau Vallon Bay Hotel&Casino, key South African tour operators met with the island's tourism trade stakeholders to formulate a marketing and sales strategy to grow tourism to Seychelles from South Africa.
Opening the workshop, Alain St.Ange, the Seychelles Minister responsible for Tourism and Culture, said Seychelles valued the South African market. He highlighted the relevance of this workshop to Seychelles, saying that it falls at an opportune time when the government of South Africa and Seychelles were consolidating their working partnership through the signing of an MOU that lays the baseline to develop the African tourism market.
"For many years we've looked at South Africa as the sleeping partner. Yes, the increase in visitor arrival numbers have been steady. We now stand on an 8% increase in arrivals from South Africa on a year-to-year basis. We can pat ourselves on the shoulders and say that this is a good figure and that it is a job well done. But in reality it is not enough for the private sector block, because we know very well that out of 6,672 arrivals year to date, a big chunk is dedicated to the Eden Island home owners. This leaves the private sector fighting to get their fair share of this important market that sits in South Africa. So we have to grow this market even more, and now with Air Seychelles increasing their flights to South Africa as they have launched code share agreements with SAA, the South African Airways, we have new cards to play with, and this should help us to grow this market substantially," said Minister Alain St.Ange.
Our tourism market share from South Africa is today positioned as the country's sixth tourism destination. South African holidaymakers spend an average of 28,880 rand in Seychelles, and this places them in the 5 top best spenders for a Seychelles holiday. Minister St.Ange said that the Seychelles Ministry of Tourism and Culture and the Seychelles Tourism Board remain committed to further develop the South African tourism market as they remain an important target market.
"We will be making available more funds for our work in South Africa. Together with the Seychelles Tourism Board and South African tour operator partners, we will make Seychelles more visible among the traveling South Africans. We need to stimulate South African markets to ensure that Seychelles remains a relevant tourism destination for them."
The Seychelles Minister responsible for Tourism and Culture also spoke about Air Seychelles' involvement on the South African market and said that that they were now, more than ever before, a key partner and the airline for that market.
"Today Air Seychelles has increased its number of flights to South Africa, and they have entered into a code share agreement with South African Airways, the known and respected SAA. Both Minister Martinus Van Schalkwyk, South Africa's Minister for Tourism, and myself are committed to ensure that we take the concept that Africa must work with Africa if Africa is to claim its fair share of the world tourism industry. We need to develop this concept with South Africa first. I can assure you that alone Air Seychelles will make it to be what we all expect and wish it to achieve for us all. We need to help Air Seychelles on this market, we need to develop the freight component further. Developing more business with South Africa will help strengthen our existing ties," Minister St.Ange said.
The Seychelles Minister also sent a clear message to South Africa's top tour operators and to the local trade partners as he said everyone had to work with renewed vigor if Seychelles is to remain relevant in that market.
"We have always valued South Africa as an important market. We've always wanted our business from South Africa to flourish. It is very clear we have constraints, but nothing that we cannot overcome. We've operated one Tourism Board office for many years in Cape Town. Slowly we moved to open a second Tourism Board office in Pretoria. Many can say that this is still not the ideal situation and that we should be in the heart of the tourism trade which is Johannesburg. Today, we can say that we are looking at a Johannesburg Office as well to ensure that our presence in South Africa is nothing short of the best that we can have."
Justin Gostling, of Air Seychelles assured trade partners of Air Seychelles, when he took the floor, of the commitment by Air Seychelles to drive business from South Africa. "We want to work with you," he told the South African Tour Operators. "We want to help drive the South African market. There are lots of opportunities. We have a great product with competitive prices. Air Seychelles is very engaged on the market with lots of promotions and packages. We now have a 200% increase in connections throughout Africa compared to last year thanks to our three per week services, a new schedule and a great code share agreement with SAA," said Mr. Gosling.
Sherin Naiken, the Chief Executive Officer of the Seychelles Tourism Board, presented the organization's strategy for South Africa, highlighting the fact that South African travelers were among the top 5 big spenders in the country and that 76% of South Africans travel overseas for their holidays. South Africa also offers Seychelles the possibility of twin-center holiday packages for their own inbound visitors.
"Today we stand at 12,000 South African visitors, and our target for 2013 is 14,000," said Ms. Naiken. "We need to consolidate our efforts, and we need to work with our airline, with our trade partners, and with tour operators to target the right segments of the market for their Seychelles holiday. We need to remain focused on the potential customer. Our main challenge today is to make Seychelles more affordable, to offer attractive packages and incentives, and above all to assure South Africa that on a Seychelles holiday we can guarantee a value for money experience. This is what South African tourists are looking for, and we also need to look to further develop the potential of twin-center holidays, combining a safari and sun and sea combination with South Africa for their inbound clients."
The Seychelles Tourism Board Chief Executive added that although our visitor arrival figures from South Africa is today encouraging, Seychelles needed, more than ever before, to remain visible and relevant to the South African market.
For his part, John Stravens, the Chairman of the SHTA, the Seychelles Hospitality and Tourism Association, said that he is encouraged by the fact that Seychelles has a government that knows the importance of tourism to the country's economy. He said that the local partners should be determined to work hard on the Seychelles positive aspects and to look at every opportunity to make the industry better and to sell Seychelles more.
"Let us not stop at negativity. Let us look at opportunities for us to make our industry better. Let us capitalize on every opportunity to sell Seychelles more. That is the reason why you are here today," said John Stravens.
The workshop was attended by over 75 participants from the Seychelles local tourism trade, including the Seychelles Hospitality and Tourism Association (SHTA), the Seychelles Civil Aviation Authority (SCAA), hoteliers, tour operators, DMCs, and travel agents. Attending from South Africa were Air Seychelles' General Manager for South Africa and the South African tour operators SeyUnique, Holiday Factory, Thompsons Holidays, 360 Degrees, African Encounters, and Tropical Island Escapes.