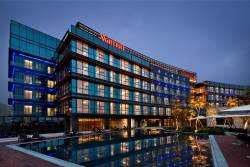 Marriott International has announced the opening of the 155-unit The OCT Harbour, Shenzhen Marriott Executive Apartments.
This is Marriott International's first extended stay property in South China, showing its continued growth and commitment to China.
Simon Cooper, president and managing director, Marriott International Asia Pacific, said: "We are delighted to be opening South China's very first Marriott Executive Apartments and pleased that the popularity of the Marriott Executive Apartments brand in China continues to grow.
"Designed with extended stay travellers in mind, the apartments are located in an iconic location with the convenience of a five-star, full-service hotel.
"Offering space, ambience and privacy of residential living the Marriott Executive Apartments enables a comfortable stay while living away from home."
The OCT Harbour, Shenzhen – Marriott Executive Apartments cover a total area of over 27,000sqm.
The property has accommodation of 155 units encompassing studios, one-, two- and three-bedroom suites.
Each spacious apartment allows guests to feel the authentic experience of living in the city.
With separated warm-coloured bedroom, contemporary living room and office area and a fully equipped, state-of-the-art kitchen – Marriott Executive Apartments are the perfect home-away-from-home with tranquil ambience and all the benefits of a hotel. Concierge desk, foreign exchange, limousine service, and even a grocery shopping service are only a phone call away.
The Resident Lounge, 24-hour gym, outdoor pool, kids' pool, children's playroom, and valet dry cleaning are among the services on offer.