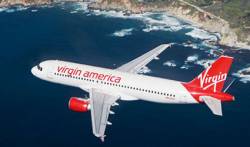 From July 1 to August 15, Silvercar is giving away a limited number of free two-day rentals of their silver Audi A4s to Virgin America Elevate® members flying into Dallas, Fort Worth and Austin. The app-based car rental company announced their partnership with Virgin America in May. Silvercar is extending its relationship with guests flying Virgin America to give them a revolutionised car rental experience.
"It seems kind of crazy, doesn't it?" said Silvercar CEO Luke Schneider. "The way we see it, once you experience Silvercar, no other car rental offering should be able to measure up. And we want to give a taste of what renting a car in 2013 should be like to our customers who fly Virgin America."
Beginning July 1 for travelers headed to Dallas-Fort Worth International Airport (DFW) or Austin-Bergstrom International Airport (AUS), Silvercar is holding up to 50 silver Audi A4s every week to rent free of charge for a two-day rental. Travelers will need to book their car by July 31 for an August 15 travel-by date. Using the promotion codes VXDFWFREE or VXAUSFREE (for DFW and AUS respectively), travelers can claim their free booking on Silvercar's website (www.silvercar.com/partners/virgin/giveaway). There will be only one free rental per person.
The offer is valid exclusively to Elevate members with a Virgin America boarding pass. At the time of booking their free rental, Silvercar will require travelers to enter their Elevate number. When the traveler picks up the car, they must produce their boarding pass from their Virgin America flight. For travelers who are not yet Elevate members, they can sign up at VirginAmerica.com.
Everyone renting with Silvercar will have access to GPS navigation, SiriusXM satellite radio, in-car Wi-Fi and a toll tag at no additional charge. For Elevate members who wish to rent the car for more than two days, they will enjoy the same great rates advertised on the Silvercar website.
Travelers are encouraged to book their Silvercar early, as there will only be a limited number of Audi A4s for this offer. Elevate members who rent the car for more than two days will earn points for their rental – four points for every $1 spent. For travelers who try to book their free rental when the cars are sold out, they will be able to check for a later availability before August 15, 2013.