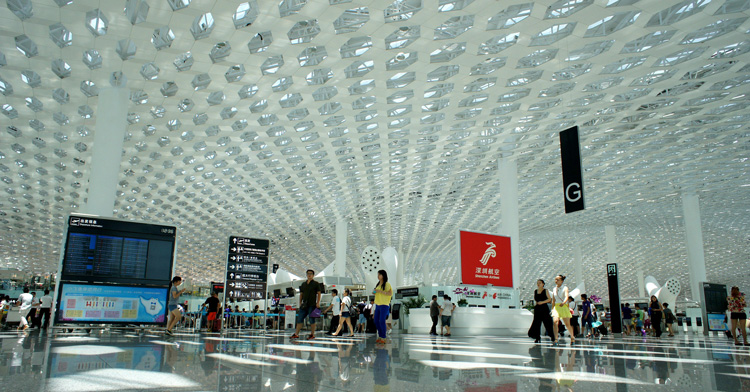 If you've ever spent time waiting at your gate for a delayed flight or tried to catch some shut eye in between flight connections, you know an airport is a very loud place. On top of crying children, conversations and the general hustle and bustle of tons of people hanging out in one spot, there are also the ever present and extremely loud boarding announcements. And if the announcement isn't specifically paging you by name, odds are you're sick of them. There has to be a better way to communicate the information without blowing out everyone's eardrums, right?
Singapore's Changi Airport agrees. In December, the airport, one of the largest in Southeast Asia, announced that it would no longer deliver final boarding call announcements over the loud airport speakers. They did this in an effort to reduce redundant announcement and ensure passengers were not tuning out essential information.
Ivan Tan, the Changi Airport spokesperson, explained, "With more flights and passengers, maintaining the present frequency of announcements will mean noisier terminals and more interruptions in time to come. One concern is that passengers may pay less attention to the announcements made over the public address system, crowding out the more critical announcements."
Airport wide announcements at Changi will still be made for emergencies, lost children, recovered passports, flight delays and gate changes. For boarding gates and boarding times, including final call, passengers will need to find a departure board or consult their online information. The airport currently averages one announcement every five minutes.
Singapore's Changi Airport is ranked #1 in the world according to readers of Travel and Leisure and Skytrax. Clearly this move to eliminate boarding call announcements will only strengthen Changi's ranking, as many passengers find the announcements annoying and unnecessary.
The airport received it's high ranking thanks to a number of factors that help transform a boring place to wait out flight connections into an actual travel destination in itself. Changi Airport is home to such wonders as a two-level butterfly habitat, a Balinese-style rooftop pool, 24 hour movie theaters, Snooze Lounges, spas and over 80 restaurants and bars. Adding to the adventure are the Changi Experience Agents who are a constant presence around the airport in their bright blazers. They hold iPads and are always ready to help passengers looking for directions.
Not satisfied with their current amenities, Changi is making more additions in 2018. Jewel Changi, a glass dome that holds indoor gardens, walking trails and mazes, is set to open at the end of this year. It will feature 340 species of plants, an Avenue of Trees, stores, restaurants, a hotel, a skytrain, and a five storey Forest Valley.
Forest Valley will be comprised of 2500 trees and 100,000 shrubs from countries such as Brazil and Australia. The world's largest indoor waterfall, the Rain Vortex, will sit at the center of the valley. It will reach 40 meters/131 feet, beating the current largest indoor waterfall (also found in Singapore) by five meters. The Rain Vortex will use rainwater collected on the building's roof and lights will make the water appear to glow in different colors.
If you haven't booked a layover in Singapore yet, what are you waiting for?
Photo: https://www.flickr.com/photos/edisonsavi/14360657880/