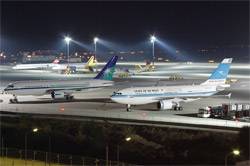 The latest Which? airport passenger survey reveals smaller airports are, on average, outperforming larger ones. We also reveal that queues at bag-drop desks often cancel out any benefits of using online check-in.
New research from Which? has found only three of the UK's largest airports made it in to our top ten. Newcastle International (69%), Birmingham Terminal 1 (66%) and London Heathrow Terminal 5 (66%) all scored well.
However, it was London Southend which was flying high with a customer score of 84% and a maximum five star rating in five of the ten categories assessed. Smaller airports including Humberside (81%), Robin Hood Doncaster Sheffield (78%), London City (77%), Southampton (77%) and Blackpool (74%) also scored highly.
London Luton was grounded with a customer score of just 43% and only two stars in almost all categories including speed of check-in, airport environment and toilets. London Heathrow's Terminal 1 (45%) and Terminal 3 (46%) also scored poorly with a dismal two stars for airport design.
We also found that online check-in is failing to put an end to lengthy queues at our airports with very little difference in the time people waited at check-in desks compared to bag drop desks after checking in online.
Our member survey revealed Stansted airport consistently had the longest waits for check-in and bag drop and Southend airport again scored highly, with the average waiting time for bag drop 8 minutes, half the 16 minutes that you'd wait, on average, to drop off a bag at Stansted. A third of Which? members list queuing as one of the most frustrating aspects of air travel.
Which? executive director, Richard Lloyd, said:
"Our research shows a jumbo jet-sized gap in the performance of UK airports with smaller terminals generally performing better. It is clear some of our major airports have some work to do if they are to keep more of their passengers satisfied."