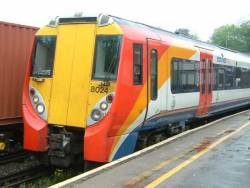 The South West Trains-Network Rail Alliance has announced an exceptional summer offer for its passengers with thousands of £15 return tickets available. The rail operators' summer offer will start 3rd August with tickets going on sale for just £15 same day return per adult, and £7.50 per child.
The Summer Fever tickets will offer day travel for passengers travelling between any two South West Trains' stations on any Saturdays and Sundays in August, in addition to the Bank Holiday on Monday 26th August.
Passengers will be able to travel to and from any two South West Trains stations across most of the 616 mile network. The Warminster to Bristol Temple Meads line and the Exeter to Feniton line are excluded, but the Island Line Trains is included provided passengers hold tickets to Portsmouth Harbour. The rest of the network covers an impressive amount of territory south and west of London's Waterloo Station – to the coast at Portsmouth and Weymouth in Dorset, into Wiltshire, Hampshire and Buckinghamshire, making the tickets a real bargain.
Arthur Pretorius, Deputy Customer Service Director for the South West Trains – Network Rail Alliance, said: "We have launched this amazing offer in August to match the traditional holiday season and give people an opportunity to make the most of these great value tickets.
"This is a unique offer for everybody within our area to go and explore what our region has to offer, or visit friends and family for a bargain price. We hope it will encourage more people to give the train a try."
The Summer Fever tickets can be purchased on the day of travel from any staffed South West station, or from ticket vending machines in unstaffed stations. Tickets can also be purchased in advance online or by phoning +44 (0)845 6000 650. The offer is valid on 3rd, 4th, 10th, 11th, 17th, 18th, 24th, 25th, 26th 31st August and 1st September.