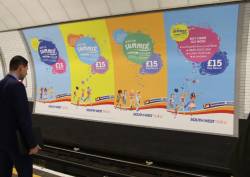 Customer Engagement Agency Lateral Group has been appointed by South West Trains to develop their latest Multi-Channel Promotional campaign.
The relationship commences with a campaign promoting South West Trains' main summer promotion offer. The summer campaign is designed to encourage an increase in weekend travel during August with a special price, any Saturday, any Sunday, anytime day return offer. The campaign will run across posters, press, banners, email, web and door drops.
The campaign runs until 1 September.
Emma Wiles, Senior Marketing Manager, South West Trains said:
"For this campaign we wanted to drive volumes at the weekend by offering a competitive weekend fare. It gives people the chance to explore the South East and to make the most of their weekends. Lateral has proven that it has the knowledge and creative capabilities to develop a campaign that truly understand our objective and recognises our customers' needs."
Mike Cavers, Executive Creative Director, Lateral Group said:
"It is really exciting to have the opportunity to play an integral role in helping to develop South West Trains' promotional activity and to produce some truly engaging creative campaigns"
Lateral Group, one of the UK's leading Customer Engagement Agencies, using data and insights to inform highly targeted, creative campaigns in order to manage real-time integrated marketing communications.