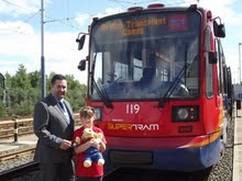 Stagecoach Supertram today announced a new partnership with the Westfield Health British Transplant Games.
The Sheffield transport provider is one of a number of local businesses supporting the Games when the event takes place in the city from 16-18 August.
Stagecoach Supertram has worked with the organisers to enable all games pass holding competitors, registered supporters and Games volunteers to travel for free on the tram for the duration of the event.
Nigel Wragg, Commercial Manager, Stagecoach Supertram said : "Supertram is delighted to be able to team up with the British Transplant Games and support competitors by providing free travel. This is a great event and a fantastic opportunity for Sheffield to host such an important sporting event. We wish all competitors the best of luck and hope that our support can make their time in Sheffield even more enjoyable."
Eight-year-old transplant athlete Ellie Greenwood, who had a transplant after being diagnosed with liver cancer at just seven months old, said: "I would like to say a really big thank you to Supertram for letting all of the athletes and supporters at the Transplant Games use their trams for free."
John Timms, Event Director for the British Transplant Games, said: "To have Stagecoach Supertram on board for this year's Games in Sheffield is a huge asset for the event and their support will undoubtedly enhance our athletes' and supporters' experience in the city."
Stagecoach Supertram will be running its regular timetable throughout the Games with frequent transport to most of the main venues.
The venues accessible by tram include English Institute of Sport Sheffield (EISS), City Hall, Hollywood Bowl, Holiday Inn Royal Victoria, Don Valley Stadium, Grass Bowl (EISS) and Ponds Forge.