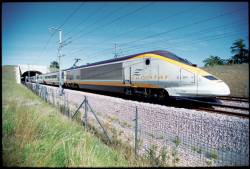 Eurostar today reported strong growth in both passenger numbers and sales revenues in the first half of 2013.
In the first six months of the year passenger numbers rose by two per cent year-on-year to 4.9 million from 4.8 million in 2012.
Sales revenues grew by seven per cent in the first half of the year to £453 million from £425 million in the same period last year.
After a flat start to the year in which several extended periods of adverse weather impacted services, Eurostar has seen acceleration in the growth of traveller numbers in the second quarter with passenger traffic up four per cent year-on-year.
Responding to this increase in demand the business boosted capacity this summer with the addition of more than 200 extra services between London and Paris.
Growth has been most marked within the UK and international (passengers originating outside the EU) markets, reflecting recent signs of an improvement in the economic environment in these areas.
Nicolas Petrovic, chief executive, Eurostar, said: "We have delivered a strong performance in the first half of 2013, characterised by new routes, extra services and increasing sales revenues.
"A trip on Eurostar continues to be a big draw for international and European travellers alike.
"We have seen a surge in booking from outside Europe and our new service to Provence has proved a great success with many services running at full capacity".
New routes
In the first half of the year the leisure market continued to perform well, with leisure sales revenues growing by eight per cent compared to the first half of 2012.
Helping deliver this growth has been the introduction of several new routes and destinations during the period.
These include a new winter ski service to the Swiss Alps in partnership with high speed operator Lyria, as well as Eurostar's first new direct service in over ten years, the 'Route du Soleil', connecting London with Lyon, Avignon (TGV) and Aix-en-Provence (TGV).