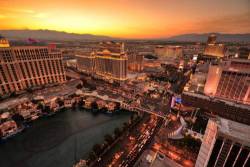 The Eiffel Tower Experience at Paris Las Vegas prepares to welcome its 10 millionth visitor, on target for early fall. The admired Vegas attraction will award the lucky guest with a trip for two to Paris, France.
The half-size replica tower has been a standout Las Vegas landmark since opening in September 1999 where its 460-foot observation deck exposes guests to an unparalleled, panoramic view of the city.
"This is a tremendous milestone for the Eiffel Tower and Paris Las Vegas," said Regional President of Paris Las Vegas David Hoenemeyer. "The Eiffel Tower Experience has been a staple in the Las Vegas skyline for nearly 14 years and maintains its status as an unrivaled attraction for visitors."
Paris Las Vegas and The Eiffel Tower Experience will commemorate the monumental event with a day-of celebration. The prize is valued at $5,000, which will cover the costs for a seven-day trip to Paris, France, for the winner and a guest.
"We're really getting close to welcoming our lucky 10 millionth customer," says Sean McBurney, assistant general manager for Paris Las Vegas. "We're less than fifty thousand away, and counting, and are looking forward to reaching this significant achievement."
The Eiffel Tower Experience is an exact reproduction of one of Europe's most famous landmarks, rendered meticulously at half-scale. At 460-feet, an experienced ambassador welcomes guests and points out can't-miss Las Vegas landmarks and interesting historical facts. The tower is open daily from 9:30 a.m. to 12:30 a.m., weather permitting.