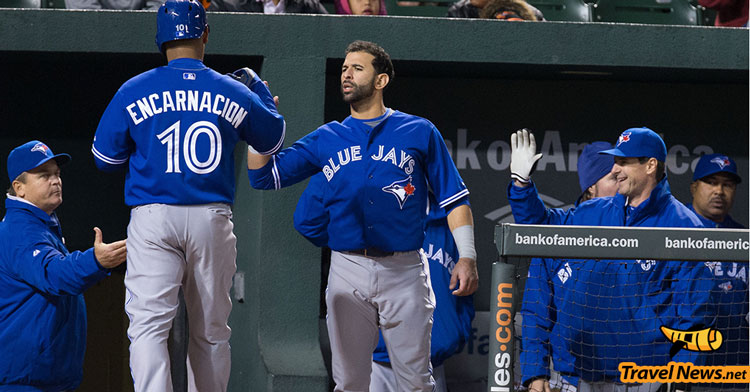 Canadians love sports and will travel on planes, buses and whatever other transport is at hand to see their favourite teams, such the Toronto Blue Jays, away from home.
Because it's cheaper. Sort of.
Just check out the prices on tickets for the Jays and Texas Rangers' MLB playoff series. Tickets for sale in Arlington started at $20. Toronto? $100. Ticket prices are somewhat more comparable for the current Cleveland series. (Another sports town, clearly.) Pre-sales for the actual World Series, which may or may not happen on Canadian soil, begin at a cool $500 — last time we checked.
If you go see the Blue Jays south of the border, taking into account your flights and hotels, it won't be a deal. People do it anyway.
Likewise, it's cheaper to see a home game, and way more comfy, for a Torontonian to cram into a bus to see the Toronto Maple Leafs take on the Habs in Montreal, and come home again in the dead of night. You do it for the experience.
The Raptors play in border towns in the U.S. all the time. Seats are affordable, and the travel won't set you back much. There's some nice stuff to see in Detroit: why not?
Meanwhile, Canadians have made a lifestyle of travelling to states like Florida in winter to see a local team. The state is positively lousy with Canadians in jerseys, visiting relatives' condos, checking out Disney World and taking in games for next to nothing.
Sports-mad Canadians might be deceiving themselves while calculating the real cost of seeing their teams play. But these sometimes illogical choices work out well for a lot of people.
There are the companies that cater to sports travellers and offer discount tickets, travel and accommodation. These one-stop shops will get you into a hockey arena for the right price and little fuss.
The sports leagues love it too. Canadian travellers put bums in seats in places that otherwise cannot support the local team. (Talking here about two hockey teams in the toasty warm state of Florida.)
U.S. cities embrace Canadian visitors, who stay in hotels, eat out every meal and grab mementos at gift stores. Sure, Canadians aren't as polite as reputed all the time, but overall we make for pretty decent visitors. Consider how Seattle is scrambling to get a new arena built to court both an NHL and NBA team. Cross-border visitors from Vancouver are surely part of the business plan to turn the coastal town into a profitable sports city.
For Canadians who love sports, it would be easier and cheaper to have more local teams to cheer for on home soil. Politics from American-based leagues keep Ontario and Quebec, for instance, from landing another hockey team.
We pay heavily for our sports, and others benefit. Oh well, go Jays go.
Photo: Keith Allison