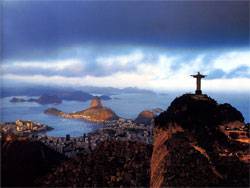 International tourists visiting Brazil in the first six months of this year injected 7 billion reais into the local economy according to new figures.
The stats, released by the Central Bank of Brazil, show an increase of 9.6 per cent on the same period of 2012.
"Obviously, the Confederations Cup taking place in June helped accentuate this upward curve," said the president of Embratur (Brazilian Tourist Board), Flávio Dino.
"We were already breaking the annual record if we considered the results up to May, but, undoubtedly, the Confederations Cup contributed a lot to this performance, not only as a result of spending on match days, but also as a result of the visibility that the country is gaining."
The increase in revenue is expected to be repeated in July, with the World Youth Day – which included a visit from the Pope – likely to have provided a boost.
"Recent analysis carried out by Embratur estimates tourist spend and other indirect effects, around World Youth Day will generate 1.2 billion reais," added Dino.