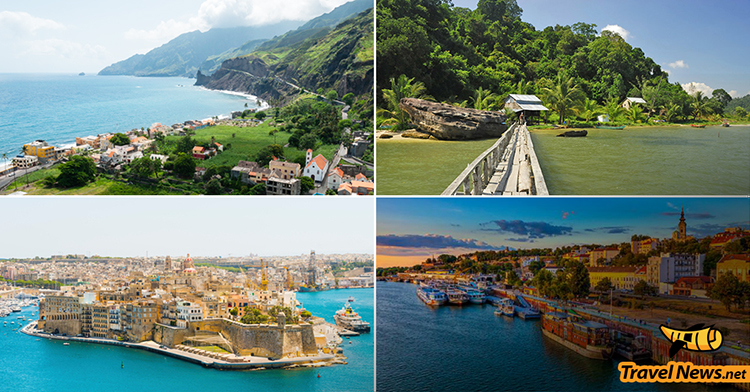 The start of a new year is a time for reflection, resolutions and vacation planning. Instead of returning to the same resort you spend two weeks at every year or visiting your in-laws across the country, why not check out one of the top spots to visit in 2018? If you're looking for a real adventure, this list will definitely peak your interest.
10: Perth, Australia
In 10th spot is the city of Perth in western Australia. Many people pass up Perth in order to visit one of Australia's more popular cities like Sydney or Melbourne. But they're missing out. Perth is quickly becoming Australia's new hotspot. With new boutique hotels, a nearby wine country, stunning coastal beaches and more restaurants per capita than Sydney or Melbourne, it's easy to see why Perth made the top ten.
9: Essaouira, Morocco
Essaouira is Morocco's hidden gem where you'll experience European and Northern African charm without all of the tourists you'd find in Marrakech or Casablanca. Nicknamed Africa's Windy City, Essaouira is the place to go if you're into surfing or windsurfing. The low profile and laid back city also boasts sandy beaches, beautiful hotels, a colorful port and delicious fresh fish.
8: Puebla, Mexico
For American travelers, nearby Puebla, Mexico is a great choice for vacation in 2018. Just south of Mexico City, Puebla offers visitors everything they need in great food and stunning architecture. Puebla is the birthplace of famed dishes such as mole and chalupa and home to ornate Baroque churches and old libraries.
7: Nagano, Japan
You know the image of macaque monkeys sitting in a hot spring in the middle of the snow? That was taken in Nagano, Japan. If that's not enough to lure you to Nagano, the host of the 1998 Winter Olympics, there's also delicious soba noodles, powdery ski hills and the 17th-century Matsumoto Castle. And thanks to the upcoming 2020 Summer Olympics in Tokyo, hotels are springing up all around Nagano. After a difficult 2017, you deserve to spend some time in Nagano's natural hot springs.
6: Banff, Canada
Banff, located in the Canadian province of Alberta, is a nature lover's dream. This stunning city is the perfect place to ski, snowshoe, kayak, hike or bike all in the natural beauty of Canada's oldest national park. And if you're lucky, you may even get to catch the Northern Lights.
5: Nevis
Nevis is an island in the Caribbean Sea next to St. Kitts. This lesser known Caribbean Island is a hidden gem and home to beautiful sandy beaches and quiet time in nature that you can't find on the more popular tourist islands. For history or musical theater buffs, Nevis is also the birthplace of Founding Father Alexander Hamilton.
4: Serbia
When it comes to European countries, Serbia isn't often a top choice. But what it lacks in popularity, it makes up for in scenery, nightlife and value for money. Nature lovers will appreciate Serbia's mountains, gorges and geological wonders. Capital city Belgrade offers all you need to party the night away, Serbian style.
3: Malta
Malta is a European country on the brink of fame. So you'll want to visit in 2018 before it is completely overrun with tourists. Plus, Malta's capital, Valleta, has been named Europe's Capital of Culture for 2018. In Malta you'll enjoy both European and Middle Eastern culture, coastal views and island hopping.
2: Botum Sakor National Park, Cambodia
Botum Sakor is Cambodia's largest national park and home to rainforests, plains, grasslands, rivers and waterfalls. It's also home to Southwest Elephant Corridor, the largest population of Asian Elephants in Cambodia. Visitors to Botum Sakor can stay inside the park or nearby in luxury camping sites and spend their days viewing wildlife, stopping in fishing villages and kayaking.
And the #1 place to visit in 2018 is…
1: Cape Verde Islands
Cape Verde is comprised of 10 islands and heavily influenced by its Brazilian, African and Iberian mother cultures. Cape Verde Islands have everything visitors are looking for. Nature lovers will enjoy pristine beaches, hiking through volcanic peaks and unique wildlife. There's history, like Cidade Velha, a 15th century Portuguese outpost, and music, like the nation's own morna style. Add to that picturesque waterfront towns and perfect weather and it's no wonder Cape Verde Islands earned the top spot.