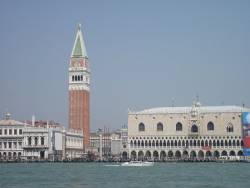 A 50 year old German tourist has died in Venice after the gondola he was riding in crashed into a boat which had been ferrying passengers along the Grand Canal.
The accident, which took place on Sunday close to Rialto bridge, also left the man's three year old daughter in a serious condition, according to reports.
The man, who was travelling with his wife and their three children was thought to have been crushed between the two vessels.
All five passengers ended up in the water.
The City of Venice is one of the most popular tourism destinations in the world attracting visitors from all over the world.
Most recently it was revealed that a new tourist tax will be enforced for visitors to Venice staying overnight, from August 24th.
The new tax, which was confirmed last year, aims to finance tourism, maintenance of cultural heritage sites and environment, as well as public services.
The tax will be levied on the first five consecutive nights of any overnight stay.
Tariffs will vary according to season, location and to the type of accommodation.