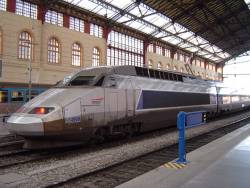 A rescue operation is under way to search for passengers of a train that crashed at Bretigny-sur-Orge, on Friday, killing at least six people and seriously injuring eight.
The train, which had just left Paris, was heading for Limoges when it derailed, crashing into a crowded station platform at rush hour.
The cause of the accident is not yet known, but human error has been ruled out. Investigations into the cause are taking place.
Rescuers have been searching throughout the night for anyone who might be trapped in the wreckage.
Guillaume Pepy, rhe head of the SNCF rail authority, revealed the third and fourth carriages initially came off the track, then knocked the others off.