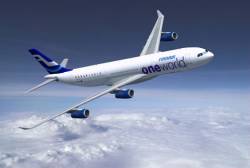 Travelport, a leading distribution services and e-commerce provider for the global travel industry, and Finnair, rated as the leading carrier in the Nordic region by Skytrax, the air travel reviewer, jointly announce a new, multi-year global distribution agreement.
Finnair representative, Head of Global Corporate Sales and GDS Sales Distribution, Mr Jani Peuhkurinen, commented: "Finnair has, in the last few years, been actively growing its network value towards strategically important premium traffic between Asia and Europe. This commercial relationship with Travelport supports Finnair's strategy."
"Travelport sees Finnair as an important, high quality airline partner and we look forward to working closely with them over the coming years," commented Mathias Andersson, Head of Travelport's Nordic Region.