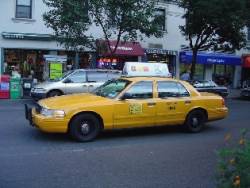 VeriFone Systems, Inc today announced, Way2ride, a mobile app that allows New York City taxi passengers to get in, tap, and get out the moment their ride is over.
Way2ride, currently available for iOS and Android smartphones, makes the taxi experience faster and easier for New Yorkers and business travelers by enabling riders to pre-load payment information and preferred tip amounts. Once inside the cab, passengers can pay at any time with a tap of their phone. At the end of the trip, riders can simply get out of the taxi and get on with their day. Digital receipts are stored in the app and accessible at Way2ride.com for easy tagging and expensing of business trips.
"Way2ride makes every taxi ride better, whether you hail by hand or with an app," said Amos Tamam, senior vice president of Taxi Systems for VeriFone. "An app that provides this convenience in every taxi in New York City, including the new for-hire vehicles in upper Manhattan and the boroughs, will be a real benefit to passengers and drivers alike."
After the New York launch, VeriFone will be expanding Way2ride acceptance throughout its network of more than 70,000 payment-enabled taxis worldwide.
Powered by VeriFone's Zoosh Technology
Way2ride uses VeriFone's patented Zoosh sound-based technology to check passengers into their ride, allowing for secure transmission of payment information through the cloud. Way2ride is VeriFone's first commercial deployment of the Zoosh technology, which utilizes the speakers and microphones of smartphones to securely exchange encrypted data between devices, allowing app developers to unlock the potential of non-NFC smartphones to deliver single-tap functionality alongside their NFC solutions.