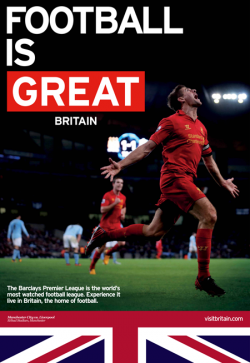 VisitBritain has today extended its five year partnership with the Barclays Premier League to 2016.
The new deal will target millions of football fans around the world who follow English football, and aim to increase the 900,000 football mad visitors who already visit each year, spending £700 million across Britain.
The popularity of recent pre-season tours by the likes of Manchester United, Arsenal, Liverpool and Manchester City and the huge buzz at the start of this season has further emphasised the global passion for the Premier League.
VisitBritain has cranked up investment making it the biggest football campaign in the tourist board's history.
As part of its largest campaign, Steven Gerrard, the England and Liverpool captain will feature in GREAT advertising promoting Britain as a wonderful place to visit and watch sport.
The agreement will give potential visitors the opportunity to play an inspirational season-long digital game to win a trip to Britain, which will sit on VisitBritain's new Love Wall.
The fully integrated campaign, under the tag line 'Take Me There', will also include new player interviews, options to book match breaks via Thomas Cook Sport, information on favourite clubs, suggested tourist attractions close to the stadium and access to latest fixtures and results.
The season will see new stadium tours added to VisitBritain's online shop available to visitors in 58 countries across the world.
If fans can't get a ticket for a game they can instead enjoy the history of their favourite team, sit in the changing room and go pitch-side where their heroes play at clubs such as Manchester United, Manchester City, Arsenal, Tottenham Hotspur and Chelsea.
Last season more than 70 million people across the globe had 'opportunities to see' VisitBritain's joint partner marketing activity with the Premier League.
Richard Scudamore, chief executive, Barclays Premier League said upon signing the agreement: "What supporters around the world see when they watch the Barclays Premier League on TV are some of the world's best footballers playing exciting football in packed stadiums where there is a fantastic atmosphere.
"Extending our ties with VisitBritain means it will not only be easier for our fans across the globe to come here and be part of the action, but they will also be able to immerse themselves in the history of our clubs and cities."