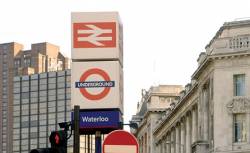 London's busiest station will be the final destination for a special photography exhibition as it arrives in Waterloo this weekend.
The Landscape Photographer of the Year exhibition, which has toured stations including Glasgow Central, Manchester Piccadilly and King's Cross, will be on display at the station from Saturday 10 August until Saturday 17 August and will include stunning photographs of places which can be reached by train from the station as well as other images from around the country which have been part of previous exhibitions.
The photographs are a taster of the annual Landscape Photographer of the Year exhibition which will take place at the National Theatre on London's Southbank later this year.
Each day visitors will have the chance to win a copy of a Landscape Photographer of the Year book signed by founder of the competition, Charlie Waite.
On Monday 12 August between 11am and 2pm Charlie will be at the station to discuss the exhibition and give photographic advice and tips to visitors
David Biggs, director of commercial property for Network Rail explained why Network Rail has introduced this new series of stations exhibitions: "People don't just want their stations to be places they catch their trains from; they want to shop, eat, drink and enjoy their surroundings. Our stations are natural exhibition spaces so extending our partnership with Take-a-view to bring amazing photography to Waterloo seemed a natural fit. We also hope that passengers will be inspired to visit the fantastic places they can reach by rail and record their own amazing views with their cameras."
To complement the exhibition, there will be different retailer activities on each day including promotions, sampling and voucher giveaways.