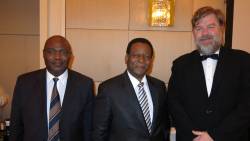 Zulu King Goodwill Zwelithini has celebrated the launch of Bayede! 7 Icon Wines, which showcase the best of South African vinification talents.
Bayede! – which translates as Hail the king! in native Zulu – is the only South African wine range with a royal emblem and signature on the label, with funds raised going toward the support of local people.
Bayede! 7 Icon Wines, the latest range, was launched earlier at the five-star One & Only hotel in Cape Town, with hospitality mogul Sol Kerzner offering his personal support.
"I want to make Bayede! our country's number one internationally recognised luxury African brand," explained King Goodwill Zwelithini.
"I appreciate our country's good wine.
"With the 7 Icon range of wines I want to promote not only this series, but the whole South African wine industry, both locally and abroad."
Bayede! Royal Wine Selection is also the first South African wine to be listed in China, by US retail giant Walmart.
King Goodwill's interest in wine is believed to have started when he was a guest of Hansjuerg and Franziska Saager at the Eikendal estate in Stellenbosch last year.
"There the king expressed his desire to create jobs and bring hope to the people," explained Bayede! press liaison Antoinette Vermooten.
"This range of wines is the king's initiative.
"Wine maker Altus le Roux, who has the French wine making title of Magistal des disciples d'Auguste Escoffier, helped the king select these specific wines for the series."